The outcome of every vintageis in fact the sum of numerous painstaking tasks carried out by a whole team of men and women dedicated to the vine.
This refers not only tolast year's accomplishmentsbut also to all those who have cared for our vineyards over decades. Without them the beautifulvines averaging 50 years old, would not be so vigorous.
Today we are reaping the fruit of those who have laboured for generations before us.
In the course of a year, about 60 people on the whole participate in the activity of the winery, mostly during harvest. Nothing would be possible however without the solid pillars of our team.
In 2014, Benjamin Leroux, after 15 vintages of passionate devotion and pleasure, handed the reins over to Paul Zinetti our collaborator since 2010.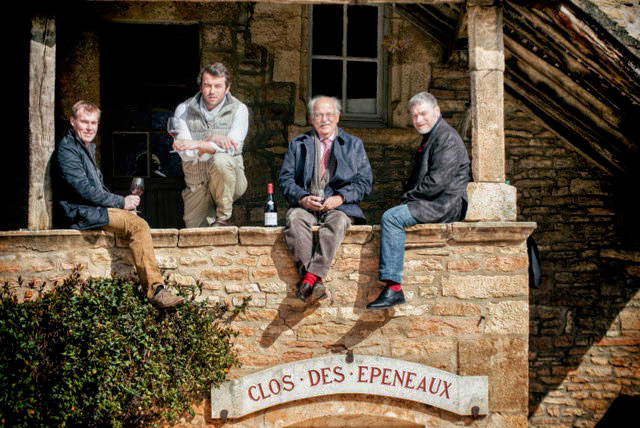 L'aboutissement d'un millésime, c'est avant tout une somme de travail minutieuse, réalisée par toute une équipe d'hommes et de femmes au service de la vigne.
On ne pense pas uniquement au travail de l'année précédente, mais aussi à toutes les personnes qui ont su préserver notre vignoble, et sans qui, nous ne pourrions travailler une vigne d'un âge moyen de 50 ans.
Nous récoltons aujourd'hui les fruits du travail des générations précédentes.
Si une soixantaine de personnes participent à la vie du Domaine au cours de l'année et surtout pendant les vendanges, rien ne serait possible sans les piliers de l'équipe.
Après 15 millésimes de plaisir et de travail passionné, Benjamin Leroux a transmis à Paul Zinetti, déjà présent depuis 2010, les rênes du Domaine en 2014.